Business Information
Distribution Facilities
75 vans in Lahore with heat proofing and cold chain facilities.
Storage Facilities
Spacious warehouses conforming to the SOPs of GMP.
Our stores :

Cold storage :
Uninterrupted Power Supply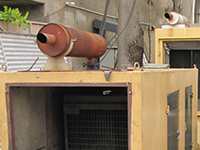 We have our own generator to ensure uninterrupted power supply.
Supply Chain Management
Warehouse Audits

Cold Rooms

Inventory Management
Security and Surveillance
At BMC we have around the clock surveillance to ensure complete security.